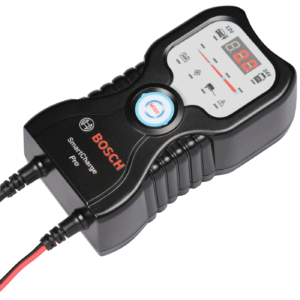 Bosch SmartCharge Pro is a professional-level battery charger/maintainer that is compatible with a wide range of applications, including heavy-duty trucks. The SmartCharge Pro includes six different charging modes and a digital display that allows users to see the status of the charge in real time and receive safety alerts.
Key Features
Six different charging modes, with a 12- or 24-volt output

Maximum charging speed of 7 amps

Digital display indicates voltage of battery during charging

Compatible with a wide range of applications, including heavy-duty trucks, Class 4 and above

---

Frequently Asked Questions

What type of functions are provided with Bosch SmartCharge Battery Chargers?

State-of-the-art technology and self-monitoring functions ensure that Bosch SmartCharge Battery Chargers promote long battery life while delivering spark protection, overheating protection, reverse polarity protection and overcharging protection.

What is maintenance/trickle charging mode?

This allows batteries to be monitored and reliably kept at a high charge level when not in use. Bosch SmartCharge Battery Chargers will automatically switch between trickle and pulse modes, adjusting the charging algorithm according to the state of the battery.

What types of applications are covered by the Bosch SmartCharge battery line?

The new Bosch SmartCharge line covers applications including passenger vehicles, classic cars, motorcycles, boats, ATVs, snowmobiles and delivery vehicles. The SmartCharge Pro is also compatible with heavy-duty trucks.